Local Adoption Pilot Projects
One of the essential ways we envision supporting regenerators is via supporting local Regenaissance adoption pilots.  
What is our understanding of a Pilot Project?
A  pilot project is defined as "an activity planned as a test or trial" [1]. As such, local adoption pilot projects aim at experimenting and testing out strategies and different approaches to activating local communities and plugging them into the SEEDS ecosystem – spreading both Seeds and SEEDS to support the Regenerative Renaissance. Initially, the pilot projects we support will be preparing fertile soil for SEEDS to grow and manifest its abundant regenerative potential. Eventually, we would like to demonstrate effectiveness and trustworthiness so that Samara is invited to co-explore the solution space for the pressing problems communities face (hot spots) in their transition towards a regenerative civilization. Both approaches will require flexible, powerful, and trustworthy methods for evaluating impact.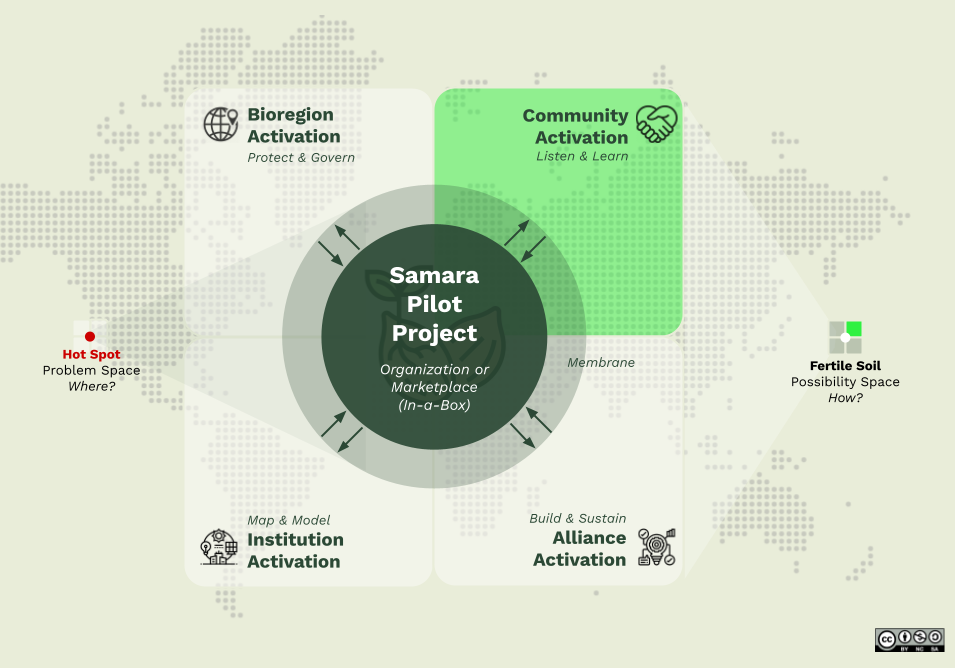 Pilot Projects are initiated and led by SEEDS Ambassadors in their own context where they are active as change makers and regenerators. We listen and learn from the people on the ground to find the appropriate tools and approaches that deeply resonate with them and their needs.
We are asking the questions: What can we offer? How can we support local regenerators and change makers? How can we contextualize and adapt the available tools to make them accessible and useful?
Pilot projects come in all shapes and sizes whether you're in a small community or in a large city; if you have an idea how to spread Seeds and regenerate our Earth, then you're welcome to launch a pilot project. 
Pilot projects can be about...
weaving together local businesses to adopt Seeds as a transactional currency

helping regional incubators to form their minimum viable organization or decentralizing existing organizations
establishing a market platform to connect local producers, shops, restaurants and consumers to provide healthy and nutritious food
making sustainable & regenerative products and services (including educational offerings) more visible and accessible
making (non-monetary) value flows visible and attributing and distributing value to contributions
creating a knowledge sharing platform / stakeholder mapping / database
supporting regenerative finance – providing participatory and decentralized investment, crowdfunding, and budgeting mechanisms
creating and using local tokens to strengthen the local economy
enhancing mutual support and collaboration in an existing regenerative network
building mechanisms for local investment in ecosystem services (schemes that link individuals and orgs to the regenerative projects in their community that are offsetting CO2, reforesting, restoring watersheds, etc.) 
The insights and knowledge gained from the work in Pilot Projects are fed back to the global SEEDS ecosystem to further support and cross-pollinate local adoption pilots. We continuously ask the question: What are we learning about how we can effectively and joyously support this Regenaissance?
Objectives of Pilot Projects
Pilot Projects will have a variety of different objectives according to the local context, local needs, and the shared purposes of those who come together to initiate them.  Even as such, there may be some common themes which will often include objectives such as to:
Serve humanity and the planet with love, in practical and enjoyable ways

Support the local sustainability / regenerative movement 

Support regenerative organizations, social enterprises and grassroots movements

Provide easy and joyful ways for people to coordinate and collaborate towards positive impact 

Introduce a wider audience to better financial and governance systems, recognizing that many of our major problems come from today's dominant financial and governance models

Finding ways to collaborate towards building long term, decentralized, democratic, and dynamic platforms 

Link local movements to an international movement and global network of regenerators

To provide meaningful jobs / livelihood for regenerators and SEEDS Ambassadors 
Food as the foundation for regenerative life
We see food as primary in regeneration.   
We have come to a very clear realization that the fundamental way we interact with Earth and practice self care is via the way we produce and consume food. Our diets and the ways we  produce, hunt, and gather this food are inseparable from the the health of our bodies, our communities, and our planet.
It is for this reason that we prioritize supporting pilot projects connected to the food system – making local regenerative food accessible to the local population and supporting producers in transitioning away from extractive practices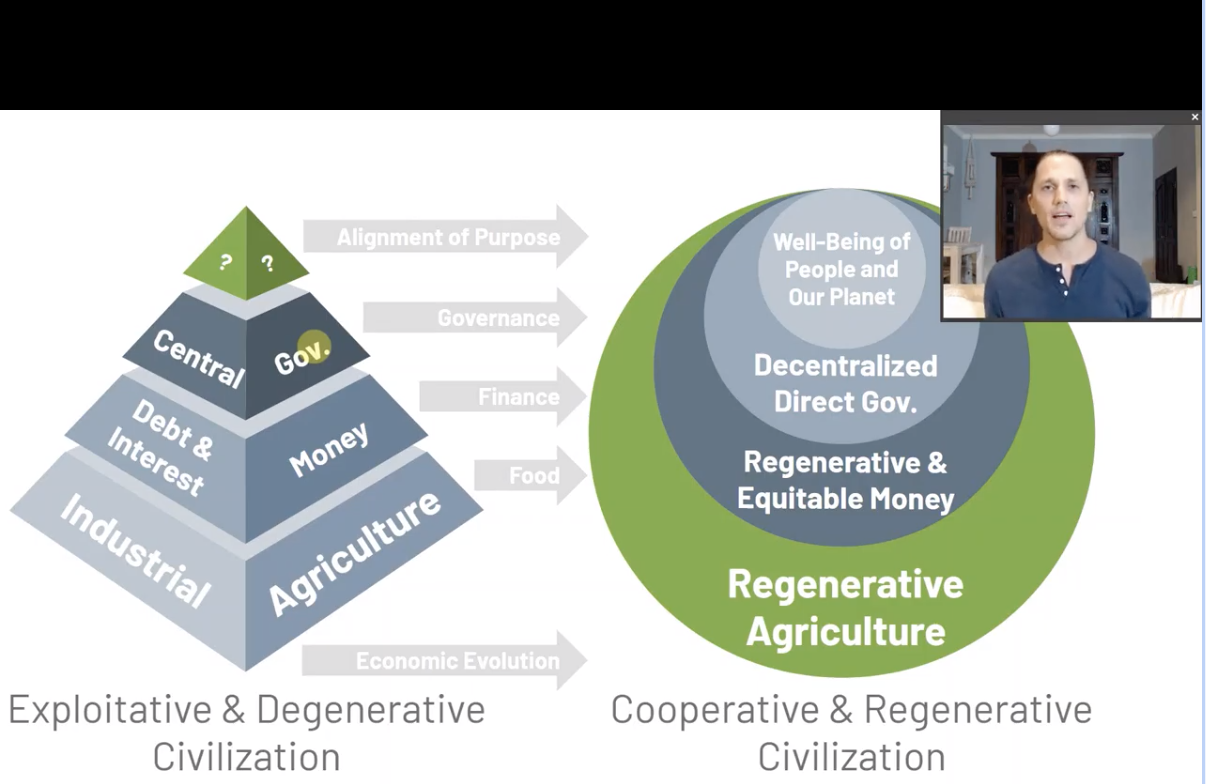 An example SEEDS Pilot approach 
Getting a team together to collaborate with is an important first step.  
Align around identity, purpose, objectives, values 
Familiarize team with SEEDS and Seeds, and onboard team to the SEEDS passport
Familiarize team with Bioregional DHO Game Guide and start exploring roles / archetypes and getting clear on how to collaborate
Gain a clear understanding of compensation and rewards - one idea might be to get some initial sponsors from local regenerative organizations 
Study existing approaches and choose one that resonates and is appropriate for local culture and ecosystem
General Strategy & Approach for Activating a Regional Pilot 
The objective in this approach is described most simply as creating a city guide and local platform for the regenerative renaissance. 
We can start by identifying several regenerative organizations we would want to buy goods and services from (social enterprises), as well as organizations focused directly on environmental and social impact (NGOs). 
It's very important to find highly attractive, highly regenerative products and services, and the most inspiring local organizations. Some examples: 

Products like local organic fruits and vegetables, personal care products like biodegradable and ethically sourced soaps, sustainably crafted furniture, natural medicines, seeds, gardening tools, eco clothing, solar panels and associated clean energy home systems, composting tools, locally produced organic and biodynamic packaged foods and beverages 
Services that help people adopt regenerative practices like solar energy, permaculture landscaping, human design readings, personal development coaches, detox retreats, natural health centers, ecological waste management, etc as well as services that help to incubate, grow, and scale regenerative organizations such as social enterprise incubators, marketing services, management consulting, finance services, etc
Academies and educational offerings: both locally available in person classes as well as globally accessible online courses with a focus on permaculture, organic farming, waste management, conservation, climate change, carbon offsetting, clean energy and energy efficiency, water efficiency, and personal and professional development including finding your purpose, social entrepreneurship, natural healing and detox, leadership, mental wellbeing, conscious parenting, romantic relationships, etc
City / Town Hubs: 'hubs' aligned with our values such as coworking spaces (like Impact Hub) vegan / vegetarian restaurants that like to host events, community centers, and other 'hubs' that demonstrate sustainability and regenerative practices
Nearby ecovillages and eco resorts: Within 1-3 hours of your city / town, inspirational eco villages and eco resorts where comprehensive regenerative solutions are demonstrated where one can visit, take courses, meet like minded folks, and in some cases even choose to build a home
Environmental & Social Regeneration - Carbon offsetting, planting trees, protecting natural reserves, tackling local poverty and homelessness, campaigning for human rights, and generally speaking teaming up with others to help heal & regenerate humanity and the environment. Every activated 'chapter' / bioregion should / could also help direct local residents towards amazing organizations doing inspiring and meaningful work. Ideally ones that will not only accept Seeds / BTC / ETH / Fiat, but also ones that will accept volunteers and visitors.

Engage 3-4 organizations to start with that are enthusiastic about the idea, and ideally at least 1 or 2 that are well known / recognized leaders in the community
Phase 1: Local 'Regenaissance' Alliance
Organizations get to know each other, trade with each other, give each other great deals, and help prepare each other to grow / scale 
Owners / managers / representatives of these organizations meet together periodically (2x per month) at City Hub(s) / online 
Apply for Alliance Share and Campaigns to kick things off → shared goal: help support local people and organizations to experience regenerative lifestyle
Buy Seeds & Hold Seeds for owners & team members as investment and way to build wealth 
Onboard all organizations on to a marketplace (LocalScale or other) that can accept Seeds
Phase 2: Soft Launch
Ensure marketplace / platform has enough local organizations to make it attractive for visitors to come and wish to shop / learn / travel
Have campaigns in place to reward regenerative behaviors (clean up trash, plant food, transform home, plant trees) 
Identify, engage, and onboard local media organizations with good following, and talk to local magazines, radio show hosts, influencers.  Focus on the message of using blockchain and new financial and governance systems to support the regenerative renaissance
Each participating organization does a social media campaign to promote the alliance and the campaigns
Host monthly gatherings to introduce people to Seeds, to alliance members, and to brainstorm campaigns
Phase 3: Evaluate & Evolve
Study impact, key relationships, successes, failures
Design and implement approaches to enhancing impact, strengthening relationships, and facilitating broader success
[1] https://www.webster-dictionary.org/definition/pilot%20project